This story is reprinted from its original airing in 2019. Due to COVID-19 precautions, the R/V Lake Guardian educator opportunity was not available from 2020 through 2022. We look forward to sharing Pennsylvania educator experiences when the expedition launches in 2024 on Lake Erie.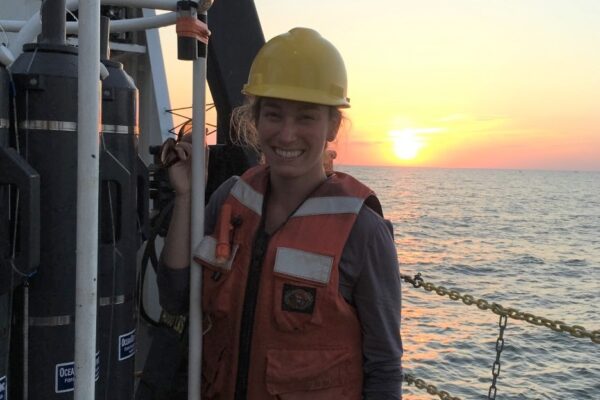 Hannah Evans, participant aboard the EPA's R/V Lake Guardian. Hannah and other educators explored Lake Erie through the Center for Great Lakes Literacy.
A Week Aboard the R/V Lake Guardian
Hannah Evans
In 2019 a crew of scientists, researchers, and fifteen Great Lakes science educators, including two from Erie, set course to explore harmful algal blooms (HABs) and microplastic pollution in Lake Erie aboard the US EPA's research vessel, the Lake Guardian. Their journey, the 2019 shipboard educator workshop, was offered through the National Sea Grant College Program's Center for Great Lakes Literacy (CGLL), in partnership with the Ohio and Pennsylvania Sea Grant College Programs.
The Great Lakes science educators came from a variety of educational backgrounds. Some, traditional teachers and others are informal educators from Wisconsin, Michigan, Indiana, Ohio, Pennsylvania, and New York, including Hannah Evans, a former IU5 STEM facilitator from Erie, Pennsylvania.
Along with her crewmates, Lisa spent a week collecting water samples, macroinvertebrates, and other data, and analyzed their findings alongside researchers Dr. George Bullerjahn, a biology professor at Bowling Green State University in Ohio, Dr. Lorena Rios Mendoza, associate professor of chemistry at the University of Wisconsin Superior, and Ben Alsip from the US EPA Great Lakes National Program Office.
Throughout the week, she had opportunities to explore Lake Erie land-based environments, including a stop to explore the coastline in Erie, where the group met up with Dr. Sherri Mason, Penn State Behrend sustainability coordinator, for an update on her on-going microplastic research. Marti Martz, former Pennsylvania Sea Grant senior coastal outreach specialist, lead several events including an overview of beach clean-up protocols and practices, and the overarching impacts of beach litter to the health of Lake Erie.
Lisa commented "Teaching Earth and Space science at Fort LeBoeuf Middle School provides me with abundant opportunities to share my passion for our Great Lakes and ocean. I believe it is important for students to understand these treasures, and so we talk about the ways Lake Erie benefits us by providing for our needs, such as water and food, and also how it provides recreation and economic benefits. We talk about how protecting our waters and lands is important for everything in our food web including us. I love providing students with opportunities to realize that they are agents for positive change."
In addition to their scientific studies, educators also discovered new strategies for implementing Great Lakes research and science into the classroom.
"Spending a week on the Lake Guardian deepened my understanding of the ecological problems our society is facing and allowed me to communicate the urgency with which we must act. The very nature of my role as a STEM facilitator is to develop cross-curricular problem-based learning experiences for students and train educators to engage their learners with hands-on real world applications that inspire critical thinking."
The Center for Great Lakes Literacy's Annual Shipboard Educator Workshop explores a different Great Lake each year. In 2014 the journey also stopped in Erie, giving the educators the opportunity to learn more about microplastics and E. coli (bacteria), as well as emerging contaminants that make their way into the Lake Erie watershed, such as Triclosan and Fluoxetine which are commonly found in things like hand sanitizers and anti-depressants.
Details for the 2024 R/V Lake Guardian are being finalized. Join our newsletter to receive the announcement!