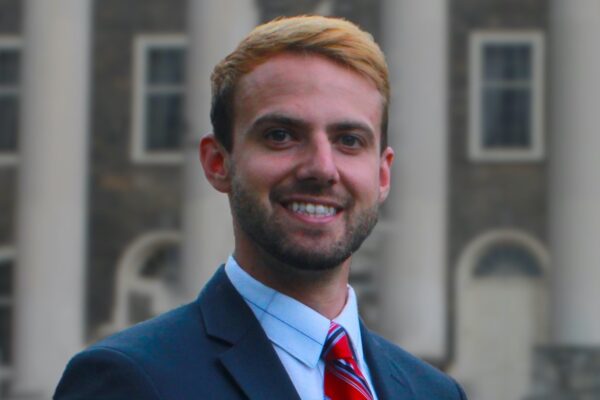 Brian Redder, Featured Knauss Fellow
Brian Redder is a former Pennsylvania Sea Grant-sponsored Knauss Marine Policy Fellow. In 2021, through the COVID-19 pandemic, Brian spent his one-year fellowship working in Senator Gary Peters (MI). Just after completing the fellowship Brian was hired as Manager of Regulatory and Scientific Affairs at the Association of Metropolitan Water Agencies (AMWA).
During his 2021 Knauss fellowship, Brian Redder worked in the office of U.S. Senator Gary C. Peters (MI), focusing on environment, energy, and agriculture portfolios.
Brian is currently the Manager of Regulatory and Scientific Affairs for the Association of Metropolitan Water Agencies (AMWA). He is also pursuing a PhD in Soil Science and Biogeochemistry part time at Penn State. Brian graduated from Hartwick College with BS/BA degrees in both Environmental Chemistry and Mathematics, and minored in both Geology and Environmental Science and Policy. He completed his Masters program at Penn State University in Forest Resources at the School of Agricultural Sciences, with research concentrating on water quality in forest and agricultural watersheds.
We recently caught up with Brian to ask a few questions about his Knauss experience.
What did you enjoy the most about the fellowship experience?
I most enjoyed the opportunity to work side by side with others directly responsible for the laws that govern our daily life. The mentors and colleagues I met during the fellowship have been invaluable to me as I continue in my career.
What was the most significant personal or professional challenge about the experience?
One of the biggest challenges was participating in the fellowship during the COVID-19 pandemic. Each week seemed to be up in the air of whether things would be in person or virtual, and the opportunities for networking were not as accessible.

What would you say has been the most significant benefit to you (professionally, and/or personally)?

The most significant benefit was the networking opportunities afforded to fellows throughout the process. Being relatively new to the science policy world meant having to rely on others to learn how to adapt to the fast-paced work environment.

Would you recommend the experience to others? If so, what might you say to encourage others?

I would recommend this fellowship to those even remotely interested in science and water policy. It offers an immersive experience that allows you to quickly learn about potential careers opportunities without a long-term commitment.