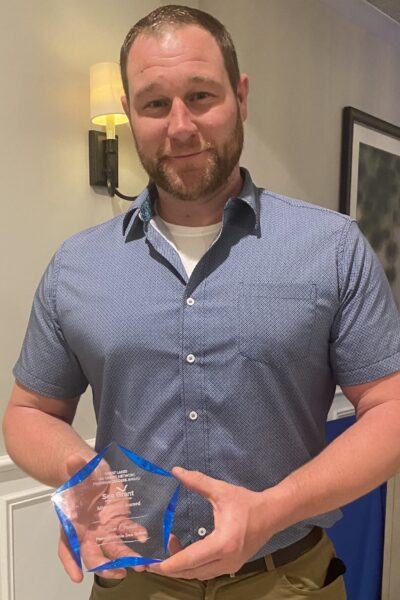 Pennsylvania Sea Grant Congratulations Tom Cermak, recipient of the Great Lakes Sea Grant Individual Achievement Award
"Receiving this level of recognition by the Great Lakes Sea Grant Network is an honor for me personally. It is also a great opportunity to share the work Pennsylvania Sea Grant is doing in the region, and have those efforts recognized by colleagues and peers." Tom Cermak, Recipient of the 2023 Great Lakes Sea Grant Individual Achievement Award.
Tom Cermak, Pennsylvania Sea Grant Coastal Outreach Specialist was recently honored with the 2023 Great Lakes Sea Grant Individual Mid-Career Achievement Award. The Mid-Year award recognizes individual Sea Grant professionals (>7 years of service) who have shown noteworthy enthusiasm, performance, accomplishments and impact during their Sea Grant careers. Specifically, the award criteria areas include excellence of performance, personal interaction, initiative and creativity, outstanding achievement, and impact.
Cermak began working for Pennsylvania Sea Grant in 2012 as a Coastal Outreach Specialist working in the Lake Erie watershed. He brings unique perspective and leadership in development and implementation of projects that pertain to invasive species outreach and management, public access improvement, land conservation, water quality and quantity management, and social science. His passion for these topics has led to improvements in local water quality, the health of aquatic ecosystems, and enhanced accessibility for all to access and enjoy the region's resources.
"Tom exemplifies the Sea Grant adage of "connecting science with people," and is a trusted expert and partner by everyone he works with," said Sara Stahlman, Extension Leader for Pennsylvania Sea Grant. "He has a unique ability to connect and leverage partnerships, to build holistic programs that reflect the strength and integrity of each partner at the table."
Cermak is also a skilled and successful grant writer, securing over $3.5 million since 2018 to support Pennsylvania Sea Grant and partner efforts. The combination of these skills and desire to succeed has led to the completion of dozens of impactful and lasting projects that benefit not only current but future generations.
Additional accomplishments and efforts include the establishment of the Lake Erie Watershed – Cooperative Weed Management Area (LEW-CWMA), which he coordinates. Through the LEW-CWMA, Tom convenes organizations and individuals that are actively engaged or have an interest in invasive plant management within the watershed, and works with private property owners, local land trusts, and state agencies to conserve public open space for passive recreation and to provide public fishing access.
He also serves as the local coordinator for the Pennsylvania Fish and Boat Commission – Erie Access Improvement Program, working with landowners to negotiate and secure perpetual public fishing access easements along the Lake Erie tributaries and shoreline. This program also provides opportunities to plan and develop physical improvements such as fish cleaning stations, ADA accessible walkways and fishing platforms, boat ramps, habitat improvement, and efforts to increase migratory fish passage.
Tom is also skilled in the use of GIS and supports other staff, constructing maps and conducting other forms of analyses. Tom earned his bachelor's in environmental science from Thiel College, and his master's degree in Community and Economic Development from the Penn State University.
The Great Lakes Sea Grant Mid-Career award honors individuals who meet these criteria.
Excellence of Performance that consistently and substantially exceeds in quality; performance that has set superior standards of excellence in outreach.
Personal Interaction: Demonstrates ability and willingness to work positively and effectively with fellow staff members and Great Lakes partners.
Initiative and Creativity: Demonstrates innovative approaches to outreach, thereby improving productivity and the quality of projects or programs.
Outstanding Achievement: Performance that has resulted in important and significant contributions to the Great Lakes Sea Grant program or network.
Impact: Performance has resulted in measurable impact on knowledge, action or consequence.