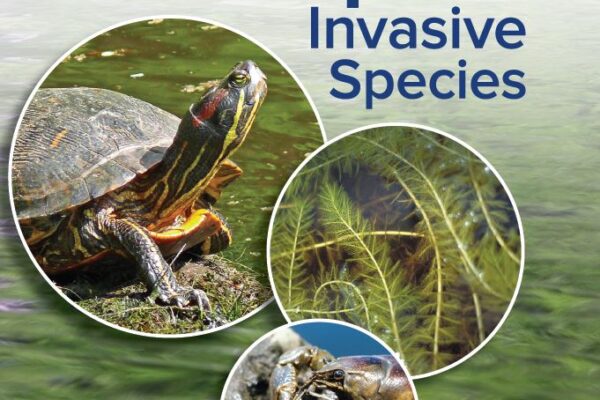 The Pennsylvania Field Guide to Aquatic Invasive Species is an in-depth guide to identifying, reporting, and preventing the spread of aquatic invasive species (AIS), produced by Pennsylvania Sea Grant. The nearly 200-page guide offers profiles of over 70 species of algae, aquatic and facultative plants, fish, invertebrates, pathogens, and reptiles. The Introduction section of the guide is offered below.
The complete guide is available at no cost as an Adobe file and as a spiral-bound, water-resistant, print version.
Overview
The Pennsylvania Field Guide to Aquatic Invasive Species is an in-depth guide to identifying, reporting, and preventing the spread of aquatic invasive species (AIS), produced by Pennsylvania Sea Grant. The nearly 200-page guide offers profiles of over 70 species of algae, aquatic and facultative plants, fish, invertebrates, pathogens, and reptiles. Each species profile includes photos and illustrations, information to help properly identify the species, maps to help determine location and spread, details about habitats, environmental and human-health impacts, and much more. From the Guide –
Introduction
Preventing the introduction and spread of aquatic invasive species (AIS) should be a top priority in Pennsylvania. The state has more than 84,000 miles of streams, 77 miles of Great Lakes shoreline, and many inland lakes, while sharing five major watersheds with other states and Canada. Once invasive species become widely established, controlling their spread is both technically difficult and expensive, and eradication can be nearly impossible. Global trade, human activities, recreation, and climate change are helping invasive species spread at accelerated rates. As a result, they are changing the health and natural diversity of watersheds across the Commonwealth. In the Great Lakes region alone, nearly 200 species from around the world have been recorded, with a continuing trend of one new non-native species introduction every six to eight months.
Identifying and preventing the introduction and spread of AIS are the keys to averting long-term ecosystem damage and ensuring the highest probability of effective control. This field guide is designed to aid natural resource professionals and other interested individuals in AIS early detection and reporting. This reference guide can help waterways conservation officers, regional biologists, volunteer monitors, resource managers, educators, students, and others working in Pennsylvania's waters. It includes general information for AIS identification, collection, verification, and reporting.
The purpose of this guide is to help slow or stop the spread of invasive species in Pennsylvania. Therefore, in addition to identification, it includes sections on prevention, reporting, and collecting specimens. The focus of the first section is prevention, since it is important that readers understand how to avoid AIS introduction and spread to new locations. It highlights significant vectors of spread for AIS and describes preventative actions that can be taken.
The second section focuses on how to report species. It is important that new infestations are reported quickly and accurately, and that specimens are collected correctly so that subsequent control or management actions can be taken.
Information described in the Pennsylvania AIS Rapid Response Plan is used to ensure species are collected according to recommended guidelines and reported to the appropriate jurisdictional authorities.
The last section contains "species profiles" that highlight important characteristics to help distinguish AIS from other species. Species are grouped together by taxonomy, with a different color representing each:
Aquatic and facultative plants (green)
Invertebrates (teal)
Fish (blue)
Pathogens (orange)
Algae (yellow)
Reptiles (maroon)
Species are ordered alphabetically by common name. Each profile contains photographs, illustrations, maps, and narrative descriptions to highlight important facts or features of that species. Profiles follow the general format below:
Species at a Glance: Brief overview and interesting facts
Identification: Key characteristics for identifying the species
Similar Species: Methods for distinguishing invasive species from native look-a-likes
Habitat: Description of the preferred environment
Spread: Highlights pathways and vectors in which the species can be transferred to new locations
Distribution: Native and invasive range information, including distribution in the United States and Pennsylvania – Note: Distribution information was taken from the USGS Non-Indigenous Aquatic Species database, the USDA NRCS plants database, iMap Invasives, and the Aquatic Plants of Pennsylvania reference guide and represents data from 2022. This information may not be completely accurate and may quickly go out of date. Please use additional resources to verify species locations in your area.
Impacts: Potential or documented influence on biodiversity, the economy, or human health
Additional tips for using the guide:
At the beginning of each taxonomic grouping is a reference section with important information for identification.
Each reference section contains images and diagrams highlighting important anatomical structures and features of the species within that Group. Reviewing these features may be helpful in identifying species.
Definitions for words in bolded letters can be found in the glossary.
The back cover of the field guide can be used as a ruler to help measure specimens in the field.
For the most up to date information on species and distribution information, please reference the electronic version of the field guide on the Pennsylvania Sea Grant website, or download the smart phone application.
Preventing the arrival and spread of species into Pennsylvania's waterways remains the number one line of defense in the battle against AIS. By taking precautionary steps, the harmful ecological, economic, and health impacts associated with AIS introduction could be prevented.
AIS can hitchhike on boats, trailers, equipment, fishing tackle, motors, clothing, diving gear, and boots, or in bait buckets, bilges, and live wells. Some species can survive out of the water on damp clothing or equipment for several days to weeks, and some are so small they are nearly impossible to detect.
PREVENTION
The following section describes common ways that humans can spread AIS through their activities and outlines the prevention measures that can be taken to reduce AIS spread.
Boating and angling
Boats, boat trailers, fishing equipment, waders, and other gear that comes in contact with water can transport AIS from one waterbody to another. Microscopic AIS, such as zebra mussel veligers or didymo cells, may be lurking in bait buckets, live wells, or bilges, waiting to be discarded into a new area. Plants tangled around boat motors and trailers can be released into new environments, transforming valuable fishing and boating areas into mangled mats of weeds. Some species may even harm boats and equipment, jam steering equipment, and ruin boat engines. Follow these guidelines to protect Pennsylvania waterways:
Boaters
Check for and remove plants, mud, and aquatic life from boat and equipment before transporting.
Drain water from boat, live well, bilge, and bait bucket thoroughly before transporting.
Clean boat and gear with hot water* and/or
Dry everything for at least five days
Diving and swimming
Check all gear that was in contact with water (including regulators, buoyancy compensators [BCs], wetsuits, masks, snorkels and any other dive gear).
Thoroughly clean all diving gear, including both the inside and outside of the BC, to ensure that no mud or organic matter is present.
After cleaning, soak equipment and inside of BC with hot water* or salt water (1/2 cup salt/gallon) for 30 minutes. Because salt can harm equipment, be sure to thoroughly rinse with freshwater after cleaning.
Allow clothing, gear, and other equipment to dry completely before entering different waters.
Aquarium and water garden animals and plants
Never release unwanted pets or aquarium plants into the environment. If a pet or plant is no longer wanted, or can no longer be cared for, choose from one of the following alternatives:
Contact a local retailer for proper handling advice or for possible returns.
Give/trade with another aquarist, pond owner, or water gardener.
Donate to a local aquarium society, school, or aquatic business.
Seal aquatic plants in plastic bags and dispose in trash.
Contact a local pet store, humane society, veterinarian, or other expert for guidance on appropriate and humane disposal options.
In addition, never dump live plants and/or aquatic animals into storm drains. Storm drains lead to rivers, lakes, or wetlands, which are all integral components of a bigger watershed.
Aquatic biologists and those working in Pennsylvania's waterways and wetlands
To reduce potential AIS spread, field workers should take the following precautionary measures during activities such as monitoring, collecting, surveying, and fish stocking:
Inspect and remove aquatic plants, animals, seeds, and mud from boat, trailer, anchors, waders, boots, nets, and all equipment, paying particular attention to cracks and crevices.
Drain lake or river water from motor or jet drive, bilge, live well, tubs, tanks, and sampling equipment before leaving water access.
Dispose of unwanted plants, fish, worms, crayfish, snails, or clams in the trash.
Wash boat, motor, trailer, and personal gear (waders, boots, scuba gear) and field sampling equipment (nets, bottles, ropes, tubs) with high pressure, hot tap water*, OR
Dry boat, motor, and trailer in the sun for at least five days and equipment for at least 10 days, or freeze for at least two days before reuse.
REPORTING A SIGHTING
Take the following steps to ensure proper early detection and response for potential new AIS discoveries:
Carry documentation tools to accurately document your finding in the field:
Digital camera
A way to identify the latitude/longitude, such as a map of the area or GPS unit
Notebook and pen for taking notes
The Pennsylvania AIS Field Guide for assistance in species identification
Gather and document information accurately:
Note the exact location of the discovery, including latitude and longitude, if possible.
Make notes about the location, habitat, and environmental conditions of the discovery site.
Take note of the species size, the number found or estimated, and the extent of the area it covers.
Write down a detailed description of unknown specimen(s).
Take detailed, close-up, digital photographs from different angles of the unknown specimen(s), as well as general photos of the immediate environment. Include key landmarks to assist in finding the site.
Include commonly known items (coins, eyeglasses, or a camera lens cover, etc.) in the photo to provide scale.
Use the Pennsylvania AIS Field Guide to help identify the species.
Verify identification and report:
Collect as much information as possible and report the sighting by calling 1-833-Invasiv, or submitting the Pennsylvania Fish and Boat Commission AIS reporting form: https://pfbc.pa.gov/forms/reportAIS.htm. For more information and additional guidance on reporting new AIS infestations in Pennsylvania, refer to the Rapid Response Plan and Procedures for Agencies Responding to Aquatic Invasive Species in Pennsylvania document found on the Pennsylvania Sea Grant website.
COLLECTING A SPECIMEN*
Before collecting a specimen, always consult with the jurisdictional agency for instructions. When a sample specimen is needed to assist in identification, it is important to keep the specimen secure to avoid spreading the collected species, or any organisms that might be attached to it. Please keep a record with the specimen of the location and date that it was collected. Be aware that animal specimens may carry disease organisms. Use appropriate prophylactic measures (gloves, handling with forceps, etc.).
* Please note: It is currently illegal to possess or transport certain aquatic invasive species in Pennsylvania. Please review the Pennsylvania Fish and Boat Commission's list of regulated species before handling or transporting.
Aquatic and terrestrial plants:
Specimens should include the stem with intact leaves, and if available, intact flowers and/or fruits and roots.
Be very careful when collecting a plant specimen, as fragmentation could result in spreading the plant to other areas.
Take care not to allow the plant to dry out.
Keep the specimen cool to prevent the plant from degrading: place in a cooler with an ice pack (taking care not to put the ice pack directly on the plant) or place the same in a refrigerator until the specimen can be mailed.
Use care when handling, as some plants may cause skin and other ailments.
Invertebrates (shellfish, worms, or insects):
Store specimens in a closed vial or jar with enough rubbing alcohol to keep the tissues moist. If alcohol is not available, freeze the specimen in tightly closed plastic bag.
Vertebrates (fish):
Seal securely in double plastic bags and freeze.
Mailing specimens:
When an outside source is needed for identification, refer to the following guidelines for mailing:
Vascular plants:
Place the plant in a water-tight plastic bag (such as a Ziploc bag) with enough water to cushion the plant and keep it wet.
Place the tightly sealed bag in a small box with an ice pack, taking care not to put the ice pack directly on the plant.
Add newspaper packing to the box to keep the sample secure.
Padded envelopes do NOT work well.
Algae and other non-vascular plants:
Dried specimens can be shipped in a padded enveloped with cardboard to stiffen the sides of the envelope.
Wet specimens should be packaged securely in a small box with plenty of packing material to ensure the jars or bags are not broken. Packing materials should be absorbent in case of leakage.
Invertebrates and vertebrates:
The United States Postal Service has specific standards and requirements regarding the shipment of hazardous materials such as formalin and dry ice. If shipment to a taxonomic expert is necessary for identification, work with the recipient and the postal service to determine the best and safest method for shipping the specimen.
BE SURE TO PROVIDE CONTACT INFORMATION. Always include a copy of your name, address, E-mail address, telephone number, and a copy of the notes you made when collecting the specimen in the mailed package.
The guide is free and available by request as a PDF or in print (shipping fee may apply). Request your copy today.