Research Vessel (R/V)Lake Guardian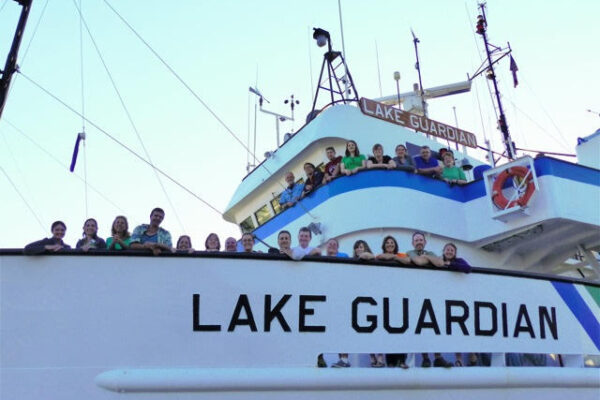 Educators explore the Great Lakes alongside researchers on the EPA's research vessel, Lake Guardian.
Through a partnership with the US EPA Great Lakes National Program Office and Sea Grant's Center for Great Lakes Literacy (CGLL), educators explore Great Lakes science alongside researchers aboard the R/V Lake Guardian.
The annual expedition takes educators on a week-long journey to explore one of the five Great Lakes, rotating between the lakes, to promote Great Lakes sciences while forging lasting relationships annually amongst Great Lakes researchers and educators. Past participants have described the experience as a "once-in-a-lifetime, professional learning opportunity."
These shipboard workshops provide a unique experience by providing educators the opportunity to live and work alongside Great Lakes scientists on a vessel conducting critical research.
Educators also receive a stipend to support integration of Great Lakes literacy through experiential learning and stewardship with their learners.
After a brief hiatus due to COVID-19 precautions, the R/V Lake Guardian again sailed in July 2023, exploring Lake Ontario with fifteen educators working alongside scientists. Learn more about their experience in this Story Map.
The next voyage will explore Lake Erie in 2024. Plans are being finalized. Join our newsletter to receive updates and details.