Meaningful Watershed Educational Experiences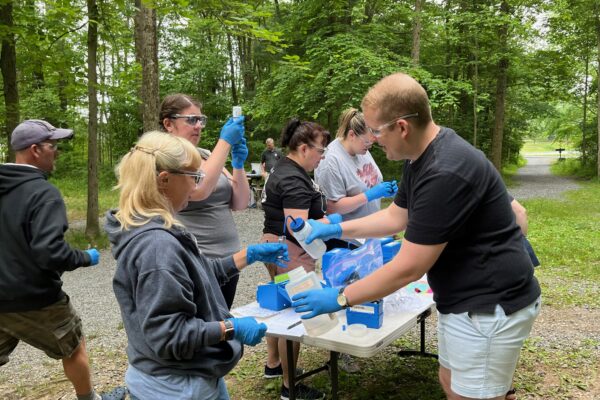 Meaningful Watershed Educational Experiences (MWEEs) increase environmental literacy by actively engaging students in building knowledge and meaning through hands-on experiences.
What's a MWEE?
Meaningful Watershed Educational Experiences (MWEEs) are made up of multiple components that include learning in the classroom and outdoors and are designed to increase environmental literacy by actively engaging students in building knowledge and meaning through hands-on experiences, to ultimately make sense of the relationships between the natural world and society. MWEEs help connect students with their local environment and equip them to make decisions and take actions that contribute to stronger, and more sustainable and equitable communities.
The MWEE consists of four essential elements and four supporting practices that build upon each other to create a comprehensive, student-centered learning experience. Throughout the MWEE, teachers provide structure, support, and encouragement as students use their curiosity and creativity to investigate and take action to address a local environmental issue.
MWEEs are appropriate for all grade levels with content and practices growing in complexity and sophistication across the grades — starting with educator guided inquiry and progressing to learner-centered inquiry. Using the MWEE framework helps educators create an engaging unit to achieve learning objectives (i.e., the knowledge, skills, and attitudes that students should be able to exhibit following instruction). Learning objectives address academic standards, but might also include other objectives, such as teamwork, social-emotional learning, and civic responsibility.
Pennsylvania Sea Grant engages with partners across the state to offer professional development opportunities for formal and nonformal educators to explore the Meaningful Watershed Educational Experiences framework and to help educators better facilitate these learner-centered experiences to focus on investigations into local environmental issues leading to informed action and civic engagement.
Recent MWEE Activities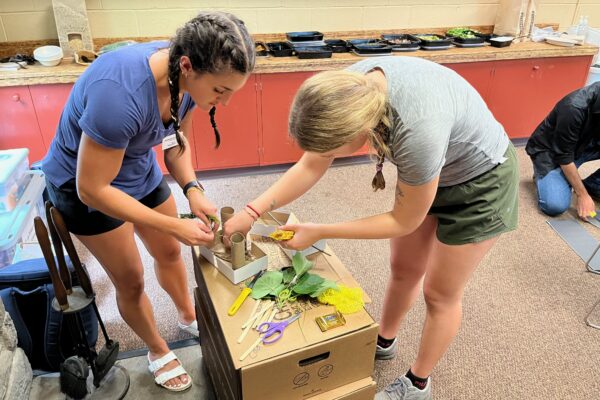 Constructing habitats in Philadelphia County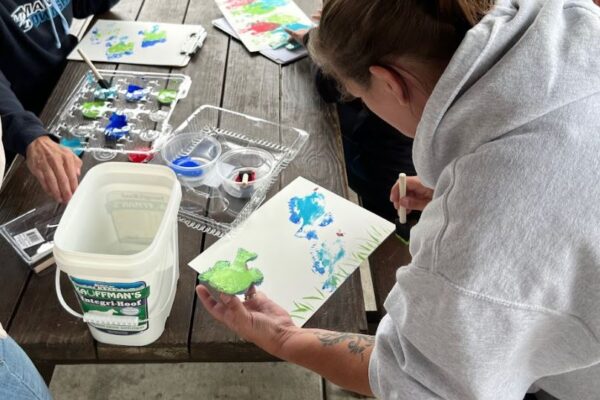 Fish painting art and science lesson in Lancaster County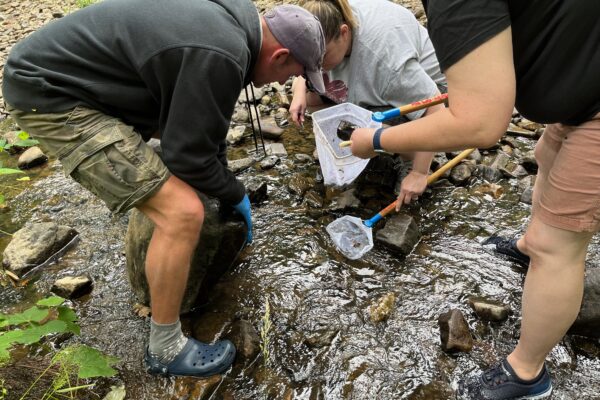 Macroinvertebrate sampling in Lebanon County
Featured MWEE Educator Professional Development Program
Pennsylvania Sea Grant recently partnered with the Pennsylvania Department of Education and the Stroud Water Resources Center to provide an educator professional development program, Expanding Meaningful Environmental and Watershed Literacy With Geospatial Technology Tools and Practice. The format incorporated fifteen-hours of synchronous instruction and fifteen to thirty hours of asynchronous assignments with the goal of providing participants with a resource to bridge the gap between delivering environmental content and developing environmental literacy through geographic information systems (GIS) and geospatial technologies. When used together to explore complex interdisciplinary phenomena, such as environmental issues, the approach has been shown to be a highly effective method to help better connect and understand the natural world, for educators and learners of any age.
Connecting these spatial representations and explorations to local field-based experiences inquiry further improves understanding in a tangible way while also creating a sense of place and connection to the issue. Yet, knowing which GIS tools to use and how to use them to enhance a new or existing curriculum can initially be quite daunting.
The educator experience included,
Integrating and adapting GIS tools into classroom instruction.
Applying GIS tools to identify environmental or environmental justice issues within watershed boundaries.
Investigating environmental or environmental justice issues within and outside of local watershed boundaries.
Identifying classroom practices and GIS tools that can be used for both place-based learning and expansion into the regional watershed and environmental literacy inquiries.
To date, this synchronous virtual professional development program has been provided twice, with thirty-eight P-12 formal and nonformal educators successfully completing the 7-week course sequence, including creating an ArcGIS StoryMap of their MWEE project with their learners. The cost was free, and participants were eligible to receive a stipend and up to 30 hours of Act 48 credits. A third round is set to begin in Fall 2023 with additional offerings scheduled as time and funding permits.
Join our newsletter to receive information about upcoming opportunities, or contact our education lead for more information.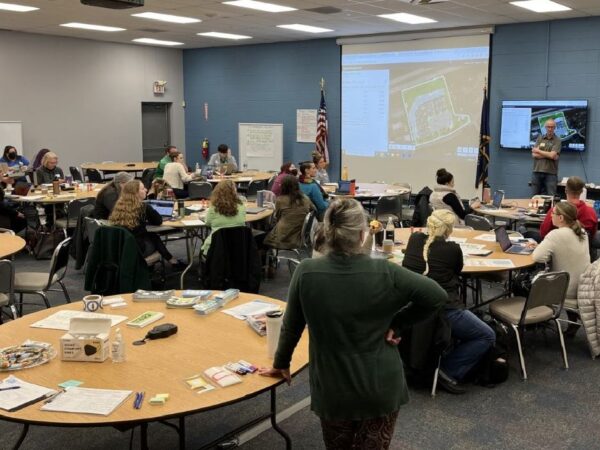 Exploring local phenomena using maps in Chester County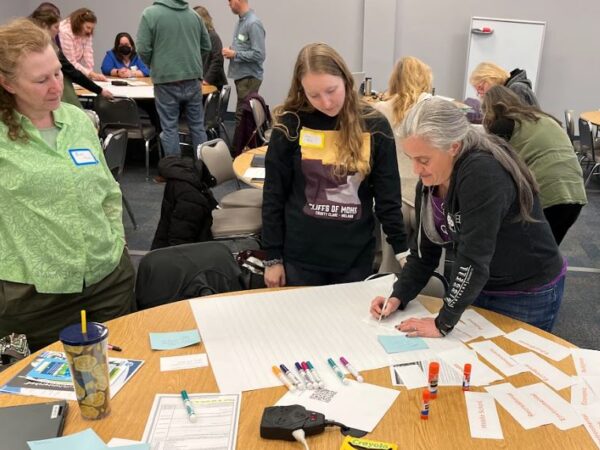 Defining an environmental problem in Dauphin County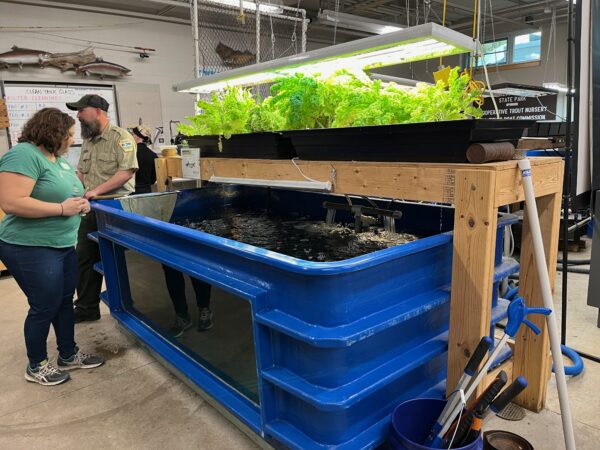 Learning about aquaponics in Erie County