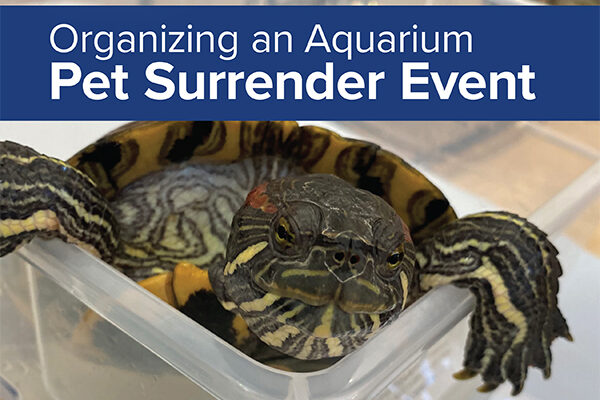 Organizing an Aquarium Pet Surrender Event
Acknowledgements
This publication was developed by Pennsylvania Sea Grant with funding from the Great Lakes Restoration Initiative.
Information in this guide was adapted from Habitattitude, Be a Hero Release Zero, and aquarium pet surrender initiatives led by Wisconsin Sea Grant, Minnesota Sea Grant, Illinois-Indiana Sea Grant and the Illinois Natural History Survey. Event-specific recommendations reflect two aquarium pet surrender events held in Erie, Pennsylvania. The events were organized and hosted by Pennsylvania Sea Grant, the Erie Humane Society, and the Herps Alive Foundation.
A special thank you to Tim Campbell, Wisconsin Sea Grant, Greg Hitzroth, Illinois-Indiana Sea Grant, and Doug Jenson, Minnesota Sea Grant, for sharing the information needed to develop an aquarium pet surrender program in Pennsylvania.
Questions about the guide or the process can be directed to Sara Stahlman at sstahlman@psu.edu.
Helping Aquarium Owners Find Long-Term Solutions for their Pet
Owning an aquarium can provide numerous benefits, both for personal enjoyment and overall well-being. However, for some species like turtles or goldfish, their size, longevity, and the expense to feed and care for them may prove challenging to some owners. Being a responsible pet owner means ensuring the pet is cared for its whole life. Organizing an aquarium pet surrender event, where the animal will be safely and responsibly rehomed, can be a helpful way to support pet owners who need to find a new home for their aquarium pet. Aquarium pet surrender events also help native species and the ecosystem, as they prevent aquarium pets from being released into the wild. Releasing aquarium pets into the wild can be detrimental to the pet, to the native species living there, and to the ecosystem.
This guide serves as a resource for anyone interested in organizing and hosting aquarium pet surrender events.
Introduction & Background
Aquariums and aquatic pets are very popular hobbies in the United States. In 2022, more than 11 million households owned freshwater fish, and 5 million owned reptiles such as turtles (spots.com pet owner statistics). Many of the brightly colored and attractive fish, turtles, crustaceans, plants, and other creatures purchased for aquariums are not native to Pennsylvania.
When owners decide they no longer want or can no longer care for the animals and plants in their aquariums, they often choose to do what they feel is the most humane option, releasing them into the natural environment. For many released animals, the new environment is unsuitable, and they can't survive. For released animals that do survive, they can establish reproducing populations and may cause harm to other organisms, becoming aquatic invasive species (AIS).
Aquatic invasive species (AIS) are non-native plants, animals, or pathogens that can cause harm to the environment, the economy, and human or animal health. They compete with native species by altering the food web and consuming valuable resources. They may also have negative impacts on water quality and the dynamics of natural ecosystems.
Preventing the spread of AIS is important because once introduced, these species are very difficult to control and manage, and can cost large amounts of time, money, resources, and lost revenue.
Currently, more than 150 aquarium species, such as goldfish, red-eared slider turtles, and plants like Hydrilla and Brazilian waterweed, have spread to new habitats in Pennsylvania after being released into waterways.
Most aquarium pet owners would prefer to find their pet a new home if they are not able to care for it. Unfortunately, finding a new home for aquarium pets can be difficult. A community-organized aquarium pet surrender event provides a safe and convenient alternative to releasing into the wild.
Purpose
This guide was designed as a tool to help individuals and organizations who may be interested in organizing and hosting an aquarium pet surrender event. Aquarium pet surrender events provide a convenient aquatic pet adoption or return option for owners with unwanted pets and avoids potentially harmful releases into the environment. The information presented is guidance only and should be adjusted as necessary.
What is an Aquarium Pet Surrender Event?
An aquarium pet surrender event is a collaboration between community partners that provides a safe and judgment-free option for pet owners to surrender their aquarium pets. Typically, it is a one-day event centered in a city or town at a readily accessible and familiar location. The event can be anywhere from two hours to a full day depending on staffing or volunteer capacity and availability of space. This guide focuses solely on surrender events for aquarium pets and plants.
Aquarium Pet Surrender Event Logistics
Securing partnerships is an important component in maximizing the value of the event and should lead to mutual benefit for all parties involved. These partners will shape the scope and public perception of the event, determine which species can be accepted, and how much public exposure the event will receive.
Partners may include entities that can take on one or more of the following roles:
Site Host – Acts as a site host or location venue. May also be an organization which can accept, care for, and adopt out the surrendered animals.
Promotion and publicity – Entities that can assist with promotion of the event through media and outreach, and education and outreach about AIS and the importance of the pet surrender campaigns. Media partners may include news and radio contacts, local Sea Grant programs, academic institutions, and other community groups. This is also an opportunity for volunteers to get involved and connect with the public.
Animal Welfare – Staffing is necessary to ensure proper care of all surrendered animals during the event. Depending on the size and scale, organizers should consider assigning roles to expedite the process and ensure animal safety. This might include:
Identifier, or someone experienced enough to correctly identify species within each taxa
Handler, or individual experienced with handling a variety of species within a taxa to avoid injury to both humans and animals
Veterinarian and/or vet tech who can assess the health of each animal.
In some cases, these roles can overlap (e.g., individual volunteers or organizations able to identify species and have experience handling them), and one or more individuals or organizations may be needed of each role.
Sample list of partners
Sea Grant
Humane Society or other animal rescue group
Local businesses
Hobbyist clubs and societies
Aquariums
Zoos
Environmental Learning Centers
Flea markets
Civic groups
Public and Private Schools
Girl and Boy scout troops
Watershed organizations and other environmental non-profits
News and Radio outlets
Veterinary Hospitals
Surrender Event Considerations
Timing
Consider the seasonal timing of the surrender event to maximize participation and the number of aquarium pets being surrendered. Late spring, when college students are leaving dorm rooms and teachers are clearing out classrooms can be an ideal time for an aquarium pet surrender event. Students may have had dorm pets they can no longer care for, and teachers often have class pets they need to find homes for. Late summer or early fall can also be an ideal time to hold an event as students return to school, often leaving behind pets with parents or family members.
Location
Choose a convenient, easy to access location that is well known by the community. Examples can be animal shelters, nature centers, universities, aquarium clubs, local businesses, or connecting with existing community events in your area. Considerations when choosing a venue may include amount of foot traffic and access to regular visitors, ability to offer promotional assistance, capacity to house animals, traffic and visibility, and human capacity. For example, animal shelters are typically a well-known community asset, can assist with promotional efforts, and may be able to house and re-home surrendered animals. An Alternative to hosting a solo event would be to participate with existing community events. Doing so may help maximize promotions and visibility, save time and effort in finding a suitable location, and in organizing logistics. However, participating in an existing event may result in less control over the timing, location, and logistics.
Location set up
Setting up the event space will depend on the location, indoor or outdoor setting, available space, and partners in attendance. Consider the general flow of traffic at the host site and how your set up will appear to passersby. If the event is held in a public setting, this creates an opportunity for additional education about invasive species. A diagram of a sample location setup can be found in Appendix C.
Registration
Pre-Registration – Offering or requiring pre-registration, if feasible, helps organizers to plan in advance for logistics such as adequate staffing or volunteers, length of the event, and knowing the types of animals to anticipate. Pre-registration may involve registering online via a website or social media app, or by contacting the organizer electronically or by phone. Pre-registration can also reflect the success of promotional efforts, such as unique URLs or QR codes developed specifically for the event.
On-site registration – In conjunction with pre-registration, or as an alternate process, owners may be encouraged or allowed to simply walk in on the day of the event. This can be quickly and easily done by having owners complete a surrender form, including species information, reason for surrender, and age and length of time in owner's care.
A sample registration form is included in Appendix A.
Aquarium pet surrender surveys and forms – surrender events, surrender surveys, and intake forms provide an opportunity to gather information about owner behavior and choices, to help plan future events, and gauge level of outreach and education needed to prevent the spread of invasive species.
A surrender form is a tool that can be used to collect program evaluation data and should be required for each participant. This form will collect relevant information about the animal being surrendered, why they are being surrendered, how they learned about the event, and any other relevant information event organizers would like to collect. Questions to ask participants may include,
Why are you surrendering your pet(s)?
How did you hear about the event?
What might you have done with your pet, had this opportunity not been available?
Additional questions that measure owner knowledge and of invasive species before and after the event and any anticipated behavior change, may be helpful in planning future events and to gauge outreach or education needs. These questions can be included in the registration and intake forms, or as a separate survey. Examples of aquarium pet surrender surveys can be found in Appendix B.
Publicity
Once the partners have decided on a location and date for the event, planning should focus on promotion and owner participation.
Promotion may include issuing press releases to local earned media, paid advertising, social media posts, television and radio PSA's and interviews, and distributing or posting flyers or fact sheets to local universities, coffee shops, and other appropriate locations.
Promotional materials should include information for would-be participants, such as registration and guidelines, the types of aquarium pets that will be accepted, event-specific information, such as how they heard about the event and rationale for participating can assist organizers when debriefing and planning for future surrender events.
Promotional mediums also make great tools for spreading general awareness about aquatic invasive species and prevention messages. Regardless of whether a surrender event brings in one pet, or 20, media promotions for the event will inevitably reach a broad and diverse audience, making it important to include the messages and information important for the audience to know.
If budget allows, investing in paid advertising through local news and radio stations offers a unique opportunity to expand the event's reach and include audiences that may not have access to social media. If paid advertising budget is an issue, consider asking local TV and radio stations to donate to the cause by running on-air or online public service announcements about the event.
Examples of aquarium pet surrender forms, sample social media post, and other logistics for hosting an event can be found in the "Tips and Tools for Hosting a Successful Aquarium Pet Surrender Event" section of this guide.
Case Study: Erie Pet Amnesty Days
Partners/Organizers: Pennsylvania Sea Grant, Erie Humane Society, and the Herps Alive Foundation.
Timeframe: May 2021, through May 2023
Location: Erie, Pennsylvania
Roles:
Pennsylvania Sea Grant – led the event planning, promotions with news and media contacts, sharing social media promotions, education and outreach, development of do not release materials, and facilitation with girl scout troops to assist with community outreach.
Erie Humane Society – Event venue. Developed and promoted Facebook event, assisted with promotional efforts.
The Herps Alive Foundation – Identified types of pets considered for surrender, accepted surrendered pets, kept records of types of pets surrendered, handled rehoming and adoptions after the event.
Four aquarium pet surrender events took place at the Erie Humane Society in Erie, Pennsylvania. The first event, "Erie Pet Amnesty Day" was held on May 1, 2021, from 11 AM-3 PM. The Herps Alive foundation, a non-profit public charity dedicated to saving, rehabilitating, and caring for unwanted reptiles and amphibians, accepts the surrender of turtles, snakes, lizards, fish, and other aquarium pets. By simply filling out a surrender form, pet owners felt assured that their pets would be rehomed to responsible owners or would be cared for at the Herps Alive sanctuary until they found new homes.